Opening Times
Monday- Sunday 10am – 10pm
Kitchen open from 11am – 9pm
24/25/26 december closed
31 december & 1/2 januari closed
We accept these payment methods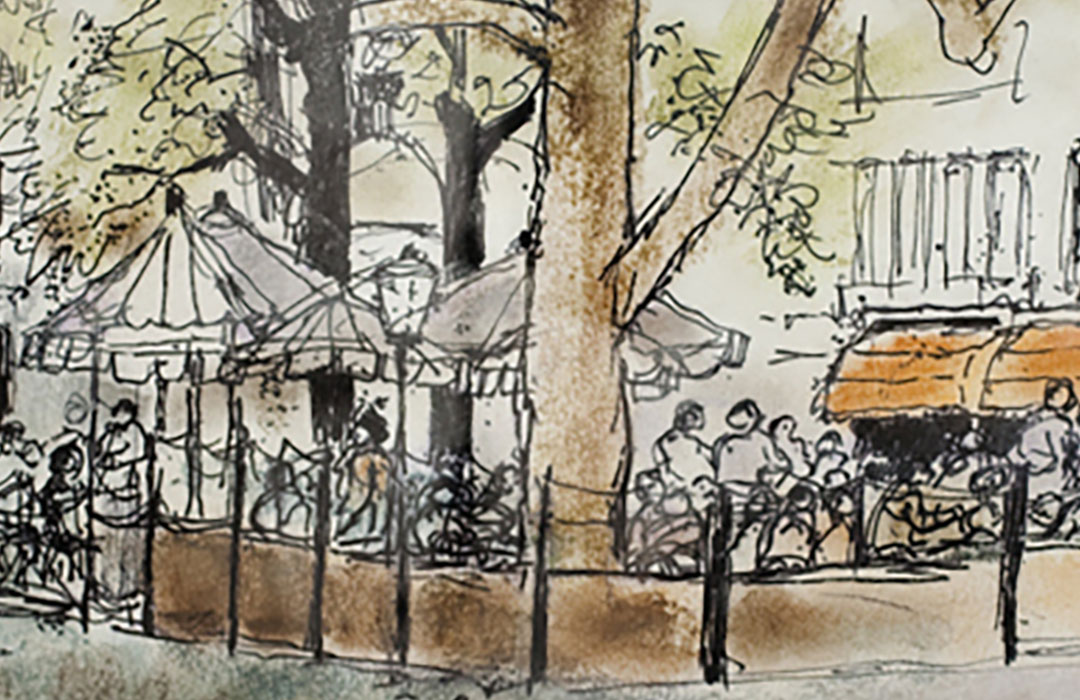 'So there's one thing from The Hague, It's Bodega de Posthoorn'
Bodega De Posthoorn in The Hague is a unique dining and drinking restaurant with a typical Hague grandeur and old-fashioned fun and hospitality. A special ambiance with a rich history, dating back to the days of stagecoaches and where artists, journalists, politicians, businessmen, tourists and expats meet. Our menu and personal service offer all the conditions for a social gathering with friends, family or a successful staff drink. Visit the square in The Hague. Enjoy both inside and outside on our heated terrace of the Hague and see the unique atmosphere rich in art, culture and music.
The Royal drop of The Hague
There are only a few places in the city that are so good for a drink in The Hague as Bodega De Posthoorn. Throughout the day you can go for a snack and a drink in good company from other peers. For decades, we are known as the meeting place for artists, journalists, politicians, businessmen, tourists and expats. Even Queen Wilhelmina visited our bodega regularly! Did she come here to have a drink in The Hague? Drop by and we'll be happy to tell you!
The number 1 for your (business)lunch in The Hague
Make lunch in The Hague unforgettable. Bodega De Posthoorn has everything for your lunch to be a huge success when you are visiting our beautiful city in the culinary field. Our restaurant is thanks to our fantastic location and ambiance is the ideal place to lunch with colleagues or business associates. No wonder we have been a meeting place for politicians, businessmen, tourists, artists, journalists and expats for years. May we welcome you soon as our regular guest?
Our Terrace
BEAUTIFULLY SITUATED TERRACE IN THE HAGUE
You can relax on our terrace in The Hague. Lange Voorhout is known as one of the most beautiful avenues in the Netherlands and from the terrace of Bodega De Posthoorn has a superb view of the stately buildings, the old trees and the strolling public. Moreover, you sit in the winter on our lovely terrace in The Hague. Nobody gets cold thanks to the terrace heater! In summer our terrace is the ideal place to dine in The Hague. Will you experienced it yourself?
HEATED TERRACE IN THE HAGUE IS A WINTER SUCCESS
At Bodega De Posthoorn you can enjoy every season of what our kitchen has to offer on our terrace in The Hague. A coffee and cake in the winter sun? No problem, thanks to the terrace heater you can sit there on colder days. When the days get warmer, you can of course also in the evening enjoy a deserved drink or a delicious meal.
CHILD-FRIENDLY TERRACE IN THE HEART OF THE CITY
Those looking for a child-friendly restaurant in The Hague go to Bodega De Posthoorn. Children are welcome and you will notice directly. Of course, we have children's chairs ready for our young visitors and also a tasty children's menu is available. And because we know that quiet seating is difficult for most children, we have a nice play corner where they can enjoy their hearts.
Events
The ideal opportunity to spend a pleasant evening or day out! On Saturday the band or musician starts to play at 17:30, a fantastic musical setting for your dinner! On Sunday, the music starts at 15.30. Once very quarter we also organize an evening of poetry in The Hague, where you can join yourself. We hope to welcome you soon!
Program
Every Saturday from 5.30 pm and Sundays from 3.30 pm
Saturdays: Rene ten Kate – on the piano jazz
First Sunday of the month: Machteld Cambridge and band – vocal jazz
Second Sunday of the month: Soluna – Haagsche flamenco gitar with singing
Third Sunday of the month: Zane Wayne Massey – live saxophone, jazzy evergreens
Fourth Sunday of the month: Wouter ten Böhmer – sing and songwriter
Fifth Sunday of the month: Joris van Goudoever – live music
Poetry evening
Once every quarter starting at 20.15
Want to join? Mail to: leestafel@haagsepoezieroute.nl
Our poetry evening in The Hague is a for fans. Once in every quarter they gather in Bodega De Posthoorn for an evening of poetry in good company. While enjoying a drink and a bite there can be listened to some invited poets and of course there is also the opportunity to recite their own poetry. Are you a poet in the making? Then it is definitely worth to come on the last Thursday.
Our Lunchmenu
Do you want a surprising and varied lunch in The Hague, then you`ve certainly come to the right place! Most of our products are homemade and beside that we serve 100% organic bread of French cereals. Bon appetit!
Our menu
Traditionally, The Hague is the city with a large involvement in the former Dutch East Indies, now Indonesia. This can therefore still look back on our menu. The most delicious dishes of Indian cuisine go here in The Hague side by side with Dutch classics like pea soup and slibtong. For our dinner we offer you our economical 2- or 3-course menu and also daily fresh fish and meat of the chef.
Note! From 21:00 we offer you one portion of bitteballs for free with an order of at least two drinks! Bon appetit!
Wine List
At Bodega de Posthoorn, you can enjoy different kinds of carefully selected wines from different countries in the world like Spain (Rioja), France, Italy, Chili en South Afrika.. Please ask your host for the winecard en don't forget to order our delicious bitterballen next to your wine!
Gallery
In our gallery you can find historical pictures of Bodega de Posthoorn, in addition there are also images of the interior, the cuisine and the ambiance. This gives you a taste of Bodega de Posthoorn through the gallery.
Open gallery & history
---
Contact Information
Bodega de Posthoorn
Lange Voorhout 39A
2514 EC The Hague
Telephone: 070 3604906
Email: info@bodegadeposthoorn.nl
Parking lot available
Spend €65 and get 3 hours free parking.